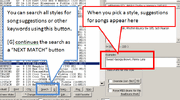 One of the time consuming aspects of using BIAB to create backing tracks for cover songs is the task of finding a style that matches the song.  Considering the fact that there are THOUSANDS of styles, it is too time consuming to sample them all.
To make this easier, PGMusic has added notes to the styles suggesting that the style has the feel of one or two songs. There is a search button in the style picker that can be used to search for specific song titles or bands. In my experience, this gets you close but rarely close enough.
Therefore, the purpose of this WIKI topic is to collect user suggestions on which styles/realtracks/realdrums they have successfully used to recreate specific songs.
I suggest that a whole style will rarely get you as close as you want to get. Best results will be obtained if users list exactly which PARTS of a style worked. For example you may need a specific guitar realtrack, a specific realdrum, and maybe the MIDI strings from yet another style.
To add your suggestions to this list, click CONTRIBUTE then EDIT THIS PAGE.
To make the list easily navigable, please:
1) put the name of the cover song first, followed by the styles used to approximate it.
2) insert your entries into the list in alphabetical order, based on the name of the cover song
3) many covers have been recorded by multiple artists. Please add the name of the artist whose style is closest to the BIAB style you are recommending
4) don't number your entries, as that will confuse the alphabetical order
---
USER SUGGESTIONS BEGIN HERE
Bruce Springsteen - Hungry Heart - *STARTUP
Bruce Springsteen - Born To Run HIGHWAY 
Police - Walking On The Moon - REGAENEW 
Police - Roxeanne - *COPPERS2 
Police - Can't Stand Lonsing You - LETTERS
Police - Don't Stand So Close To Me - RCKSTDY
Police - Message In A Bottle - *CASTAWAY
Police - Every Breath You Take - NOCTURNE 
Steely Dan - I Got The News - LA POP JAZZ CATALINE 
Ad blocker interference detected!
Wikia is a free-to-use site that makes money from advertising. We have a modified experience for viewers using ad blockers

Wikia is not accessible if you've made further modifications. Remove the custom ad blocker rule(s) and the page will load as expected.