With a newly designed key mechanism ― taken from Roland's 30 years of synthesizer development ― players can control a wide dynamic range at will. The re-designed white & black key assemblies have a rounded shape for better reaction to the player's touch and more comfortable glissando, plus changes have been made to reduce mechanical noise and eliminate vertical shake on the key strokes. In conjunction with this, the newly developed pitch bend and modulation design offers you easier and more expressive control. All these features add up to a keyboard that even the most discerning player can appreciate.
[1]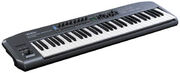 Installation
Edit
Installation on a Toshiba Satellite M70, 1.86GHz 1GB 100GB HD running WinXP Pro SP3 laptop was relatively easy. When the USB cable was plugged into a free port Windows opened an Unrecognized Hardware expert and requested a driver CD. The volume supplied with the controller contained the relevant drivers although they were not digitally signed as you'd expect from a major manufacturer. They did however install and work properly.
When the controller is plugged in and powered up the midi input is visible to Band in a Box. Selecting the correct input allows the controller to play on the thru channel as it should.
The PCR M80 provides a useful way to play notes and chords into Band in a Box. If the BiaB thru channel is set to channel 10 the controller provides a great way of inputting percussion sounds into BiaB.
Because the unit has Midi I/O connectors it also provides a way to connect midi devices that don't use the USB interface. Midi devices can be daisy chained to the connectors on the PCR M80.
Limitations
Edit
This controller has no midi synth built in so it can only play through an attached hardware or software synth. Of course this may be seen as an advantage if the user has a high quality hardware synth attached.
References
Edit
↑

Edirol Product Description
External Links
Edit